FEATURES:
✔ Perfect For Cats: Cats love the laser toy, it makes them feel like they are playing in the wild and it can entertain them for hours.
✔ Fully Automatic & Quiet: The laser toy work automatically so while you are busy your cat is stimulating his brain and having fun, and it has a manual mode so you can have fun and play with your cat as well.
It makes no noise, is extremely quiet, unlike other cheap products.
✔ High Quality & Compact: The auto stimulation toy is made from high quality materials and has an advanced industrial grade laser light that will stay bright for a long time.
✔ Smart System: The stimulation toy's system creates patterns with the laser, designed according to your cats behavior size and movements so it will be as fun, stimulating and entertaining as possible.
✔ Health Benefits: The laser toy is great exercise for your cat so he will stay active and won't become lazy and overweight, In addition to the mental stimulation that it provides so your cat won't get bored and depressed.
The Laser Cat Toy is an interactive cat toy that will guarantee wild play and fun for you and your cat. The toy can be held in your hands or placed on a flat surface to watch your cat stalk, jump and chase.
All product attributes at a glance:
Automatic mode: move the laser randomly across walls and floor
Manual mode: hold the bolt to move the random pattern over floor and walls
Adjustable laser: adjust the laser to difference surfaces
Instructions for automatic mode:
Press the on/off button
Place the toy on a flat surface or hold in your hands
Press the on/off button to switch off earlier
Instructions for manual mode:
Press the on/off button and hold for three seconds
Hold the device in your hand and let the laser travel over surfaces with random movements
Press the on/off button to switch off earlier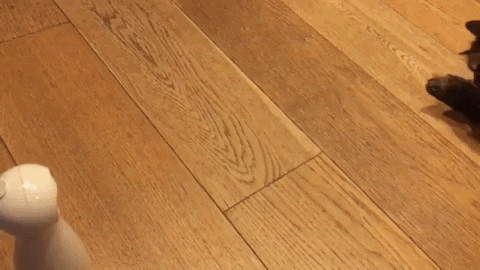 Note for correct use of the Laser Cat Toy:
Playing for long periods of time with an intangible toy does not make for long-lasting fun. To avoid any frustration, the Laser Cat Toy should not be left running for such long periods of time. Treats or an extra, physical toy (e.g. a dangler pole toy, ball or mouse toy) should be provided now and then. This will increase your kitty's chance of success and ensure a more enjoyable experience chasing after the little red dot.
Warning: Do not shine into eyes as this may lead to injury!
Danger rating 2: Visible-light laser [400 nm bis 700 nm]. Short exposure (up to 0.25 sec) is harmless to the eye.
Please note: As with any other product, please supervise your pet with this toy. Check the product regularly for damage and replace the toy if it is damaged or missing any pieces to avoid potential injury to your pet.