There are Good products and Great products.
During the design of Upright, we talked to many people with mobility issues, and we quickly learned that if we really want to help them, creating a good product simply won't be enough.
That is why we took extra time and patience during the development of this amazing cane, making every detail – even the smallest ones – perfect.
And that is how Upright was created – a multifunctional walking cane to support you when need it the most! 
Self Standing
The problem with other walking canes is they are too flimsy to stand on their own. How can you trust something to hold you up if it can't even hold itself up? Upright solves that problem!
Why?
That's because our walking cane stands on its' own due to the extra-wide pivoting base which means that it's even more stable than any other cane out there. Never suffer flimsy canes and sacrifice your safety ever again!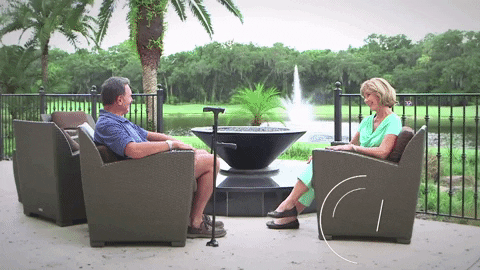 The trickiest part of using a cane to stand up from a sitting position is preventing the cane from tipping at a dangerous angle during weight transfer.
Upright has an unusual and very handy feature: a complete second handle that folds down from the shaft of the cane. The user can grip the top of the cane and this comfortable, foam-textured secondary handle for even more weight distribution.
That means no tipping or lurching forward!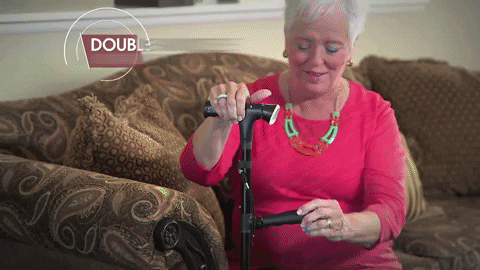 Built-in Alarm
Whether you are on a late night walk, or in case of emergency, built in alarm allows you to call anyone at anytime for help. 
Bright LED Flashlight
Trip and fall hazards are virtually everywhere, particularly at night, and even in the relative safety of the home.
Experts recommend consistent lighting for seniors and vision / mobility-impaired patients, so the UpRight provides just that!
A powerful 4-LED flashlight in the handle of the cane keeps the path ahead illuminated, preventing bumps, bruises, and falls. The light can be aimed straight ahead or angled downwards towards the feet for sure footing during nighttime strolls.
Simply add 3 AAA batteries (sold separately) and you'll enjoy illumination anytime, anywhere!
Fully Adjustable
UpRight is made for users of all ages and needs and uses a 5-level adjustable system in the shaft of the cane to vary the support height.
Adjust it from 33" all the way up to 37.5" (85.5-95.5cm) by pressing a button on the side and pulling the cane up or down until it clicks into place.
This versatile feature makes it an excellent mobility tool that accommodates users with posture support needs that vary from day to day.
360° Pivot Joint
Single-point canes are unreliable and easily tipped, even with the user's full weight bearing down. Our 360-degree tripod base offers support in all directions, enabling a cane user to "push off" however they need to without compromising safety.
This style helps ensure support when walking over and around curbs, uneven sidewalks, and varied terrains like dirt and grass. The flexible tips move with you, not against you, allowing a more natural gait.
Compact & Foldable
Don't let life slow you down, lightweight and less than 1.02 pounds (500 grams) the UpRight clever design also folds up small enough to fit in a car glove box or purse for on-the-go support in an instant!  
Get Upright to:
Alleviate Pressure & Pain In Your Knees, Back, and Other Joints.
Improve Mobility, Stability, and Balance.
Maintain an Active and Independent Lifestyle.
Helps Reduce Unnecessary Trips & Slips.
Sit & Stand Easier With Our Innovative Secondary Handle.
Average vs Great
UpRight is designed to help you enjoy life with your friends, family, and loved ones by solving mobility issues.
When you can use the restroom, relax on the couch, or settle down for coffee on the patio, all without needing a hand, you'll be able to spend more time in the moment.
This lighted, collapsible walking cane goes everywhere you do – all without looking like a "medical device" – to give you peace of mind in every step.

LIMITED EDITION
Buy UpRight Now and you will get these bonuses:
– Free Shipping
– Free UpRight Pouch
– Free Mobility E-book created by Upright
– Small Gift
UpRight is part of a limited edition, with few hundred pieces ever produced. It can not be found in stores. Get Yours Now!