Description:
MAKE AND STORE BABY FOOD IN CONVENIENT POUCHES!It's quick and easy. Just pour in the purée and press down to fill. Perfect for homemade baby food and smoothies as well as store-bought apple sauce, yogurt and purées. Enjoy now or store in the refrigerator or freezer for later. 
CREATE YOUR OWN HEALTHY AND DELICIOUS POUCHES
In a simple and easy way, store and serve homemade purées, applesauce, smoothies or even veggies for your baby now!
Create on-the-go baby food and toddler snacks in just 4 easy steps!
Yes! it's that simple. So don't worry about about it being difficult to operate.
REFILL POUCH FEATURES
Holds up to 4 ounce of your homemade puree.
Features a clear window to see food inside.
Comes with child-safe caps & labeling space on back.
Dishwasher Safe, Freezer Safe and BPA, PVC, Phthalate free.
TAKE IT ON THE GO
Perfect for babies, toddlers and even preschool lunches, maybe even adults. No one said adults can't join the fun!

The non-skid base stays secure on your counter and the soft press ensures a stable grip. Plus, the station is dishwasher safe, so clean up is a snap. 
Features:
Includes Baby Food Station station, 3 tubes, 1 press, 2 reusable spoons and 10 disposable Pouches
Soft rubber press allows for easy grip
Non-skid base
Filling tubes nest for compact storage
Pouches hold up to 4 oz. of your homemade puree
Dishwasher safe
BPA, PVC and phthalate free
FOR PARENTS WHO CARE ABOUT WHAT GOES INTO THEIR BABY'S MOUTH ❤️
BASIC NUTRABABY KIT:
✅ Includes 1 squeeze station, 3 tubes, 1 press
✅Soft rubber press allows for easy grip
✅ Non-skid base
✅ Filling tubes nest for compact storage
✅ Pouches hold up to 4 oz. of your homemade puree
✅ Dishwasher safe
✅ BPA, PVC and phthalate free
NUTRABABY STARTER KIT:
✅ Includes 1 squeeze station, 3 tubes, 1 press
✅ 10 REUSABLE Squeeze Pouches
✅ 2 Spoons that attach to the pouches
✅Soft rubber press allows for easy grip
✅ Non-skid base
✅ Filling tubes nest for compact storage
✅ Pouches hold up to 4 oz. of your homemade puree
✅ Dishwasher safe
✅ BPA, PVC and phthalate free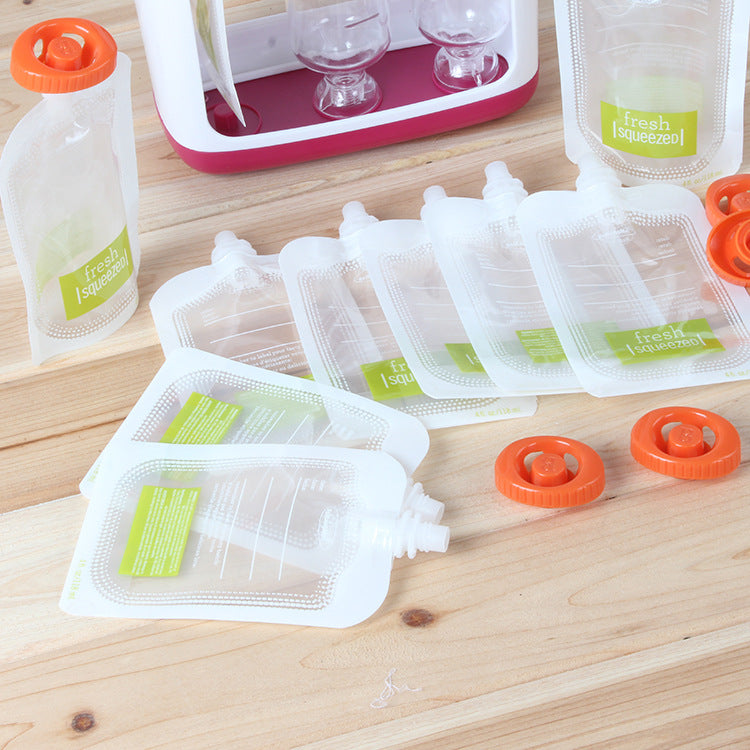 NUTRABABY STARTER KIT:
✅ Includes 1 squeeze station, 3 tubes, 1 press
✅ 10 disposable Squeeze Pouches
✅ 2 Spoons that attach to the pouches
✅Soft rubber press allows for easy grip
✅ Non-skid base
✅ Filling tubes nest for compact storage
✅ Pouches hold up to 4 oz. of your homemade puree
✅ Dishwasher safe
✅ BPA, PVC and phthalate free
NUTRABABY PLUS KIT:
✅ Includes 1 squeeze station, 3 tubes, 1 press
✅ 50 disposable Squeeze Pouches
✅ 2 Spoons that attach to the pouches
✅Soft rubber press allows for easy grip
✅ Non-skid base
✅ Filling tubes nest for compact storage
✅ Pouches hold up to 4 oz. of your homemade puree
✅ Dishwasher safe
✅ BPA, PVC and phthalate free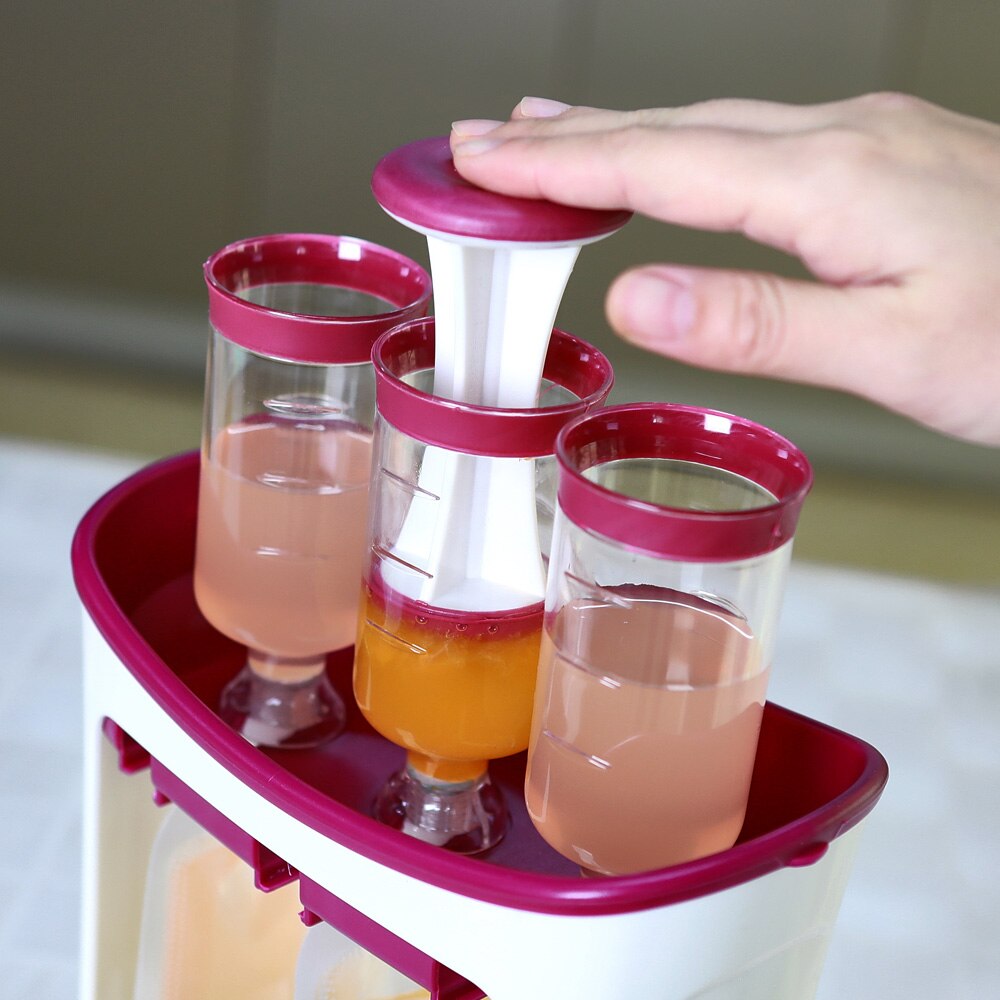 THE NUTRABABY PERFECT KIT:
✅ Includes 1 squeeze station, 3 tubes, 1 press
✅ Food Pacifier
✅ Masher + Bowl
✅ 50 disposable Squeeze Pouches
✅ 2 Spoons that attach to the pouches
✅Soft rubber press allows for easy grip
✅ Non-skid base
✅ Filling tubes nest for compact storage
✅ Pouches hold up to 4 oz. of your homemade puree
✅ Dishwasher safe
✅ BPA, PVC and phthalate free