Advantages of using pinhole glasses:
Helps to see clearly at small and large distances;
Eliminates stress and tension caused by glasses;
Prevents myopia, presbyopia, and progressive astigmatism;
Eliminates addiction to glasses;
Activates the natural visual ability to see clearly;
Promotes good eyesight habits;
Helps to improve vision naturally;
Pinholes glasses can help you regain your sight in a short time. To get the best results, you need to follow the program step by step;
WHY DO YOU NEED PINHOLE GLASSES
Glasses and contact lens are merely a crutch for your eyes, and they do not address the real cause of the problem. Your eyes will therefore become lazy and weaker with time Pinhole glasses are an alternative to your conventional glasses providing clear vision as well as an effective system of exercising you eyes. This results in delaying the need for glasses as you age and an improvement in your quality of vision with time. This type of glasses absolutely for everybody who does spend a lot of time in front of the computer, tablet, phone. TO KEEP YOUR EYES IN SHAPE and to avoid your eye muscles being weak you need to train it like every other muscle of your body.
People with normal eyesight can wear them preventively for 15 minutes every 2-3 days.
It is recommended that people with poor focus gradually adjust to the still unusual exercises, so the time of use at the beginning should be 15 minutes and can be increased later.
For the complete application of the eye muscles, it is recommended to use the glasses both for distance vision (in the open space) and for near vision (in closed spaces), for example when reading. In closed spaces, there may be a need to increase the light intensity because dark plastic decreases the light intensity.
Pinhole glasses can be used while watching TV programs, reading, computer tasks.
| | | |
| --- | --- | --- |
| In a weak eye light rays entering the eyes lens are not all focused onto the same place on the retina. By using a lens with multiple pinholes, many focused images is seen. Also, no effort is required from the eye muscles, as the only rays entering the eye are already in focus. Hence there is a dramatic consequential, relaxing effect. | Wear pinhole glasses anytime you want and are not limited by legal or safety restrictions. Pinhole glasses are best worn when watching TV or reading. | |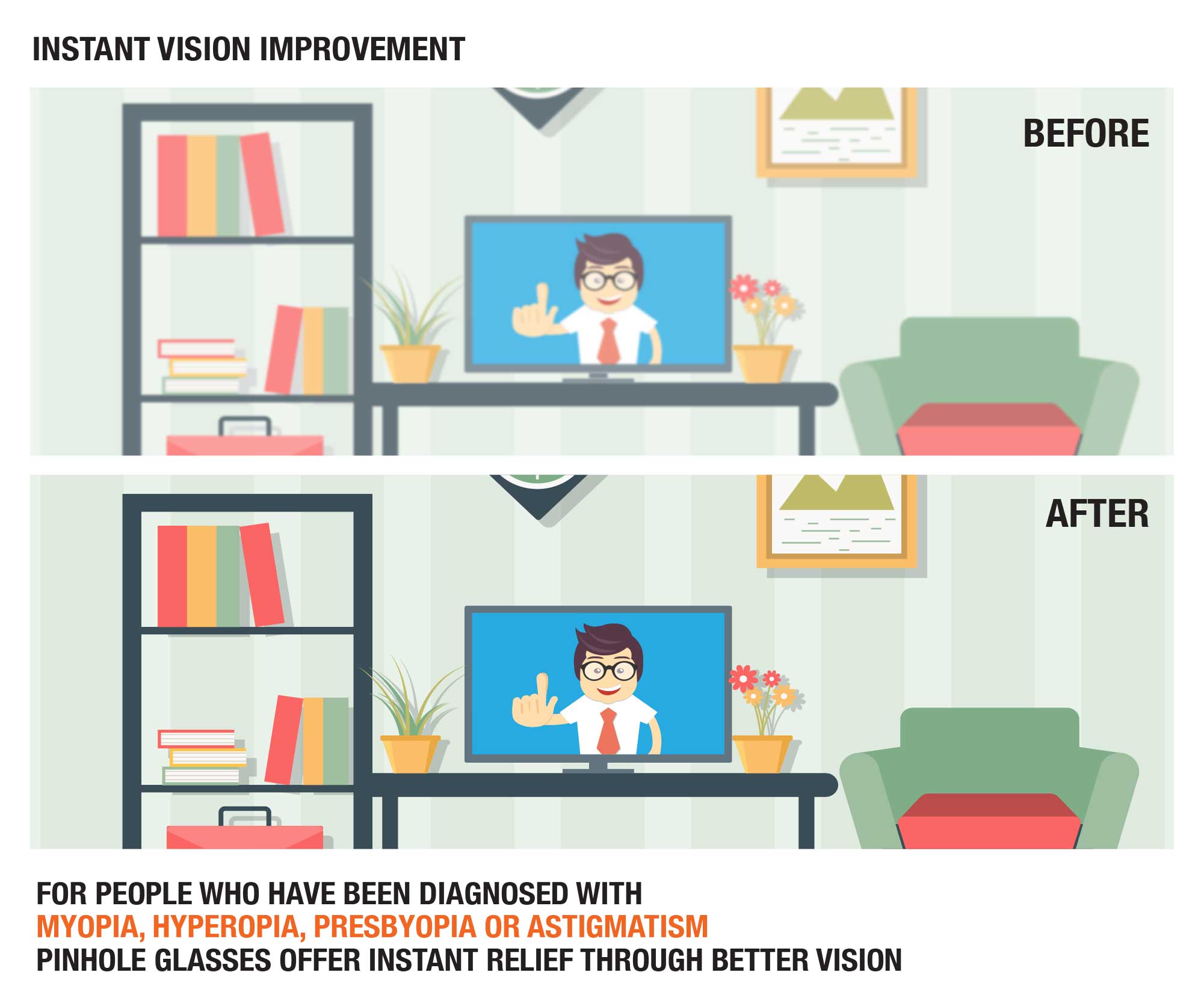 HOW TO EXERCISE YOUR EYES WITH PINHOLE GLASSES
Rotate your eyes from triangle to triangle in a clockwise direction, 10 time or more. Then repeat in an anti-clockwise direction.
Move your eyes from side to side between the triangles, 10 times or more. This action simulates Rapid Eye movement.
Take a magazine or book. Hold it at arms length and choose one word. Concentrate on this word and slowly move your arms towards your eyes as closely as you can focus. Then slowly move to arms length again, still concentrating on your chosen word. Repeat 10 times or more.
Never wear your pinhole glasses when driving or doing any activity where sideways vision is required. Do not use as sun glasses. Always make sure your pinhole glasses are clean and check no holes are blocked, it is very important to have complete vision.
Pinhole glasses are not recommended for people with over 6 diopters of myopia.