CREATE SPIRAL-LICIOUS FOOD ANYTIME AT HOME. CURLY FRIES, ANYONE?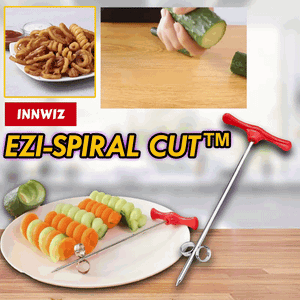 Make curly fries, zoodles, sushi and more with InnWiz Ezi-Spiral Cut! This spiral blade will turn your homemade foods into a masterpiece. Easy-to-use, it creates a quirky noodle-like shape spirals on any fruits and vegetables with ONE TWIST. Any cook beginners can spiralize their foods in minutes!
Simply curl the food without any special knife techniques needed. Featured with sharp ring blades, it is made from high-quality stainless steel that can withstand daily intensive cooking use. Easily grip and twist with an ergonomic handle without hand pain. Perfect for food presentation and nicer-looking healthy snacks. Let's get one today!
FEATURES
ONE TWIST TO HEALTHY FOODSTrying to add more creativity into homemade food presentation? Easily turn any vegetables and fruits into noodle-like shapes! Any beginners can cut out spiral foods like a pro at home.

SHARP SPIRAL RINGSNo special knife techniques needed! Equipped with sharp ring blades that slice out any veggies or fruits without hassles. Save your time from chopping and create tasty curly fries, salads or sushi platter!
EFFORTLESSLY TWIST AND CURLEasy to use, simply remove the handle and pierce the blade into fruit and veggies. Attach the handle back and start rotating! Perfect to enhance food preparation into art pieces.
FOOD-GRADE STEEL MATERIALMade of food-grade material and rust-resistant stainless steel that prolong a lasting service use. Super durable for day-to-day intensive cooking routine.
ERGONOMIC GRIPTwist the food out with almost-zero efforts! Provides a non-slip and comfortable handle for trouble-free twirling. Create more efficient cuttings without feeling pain on hand.
APPLICABLE ON ANY FOODSCreate the perfect DNA-spiral cuttings on any vegetables or fruits such as cucumber, carrots, zucchinis, sweet potatoes, apples and more.
SPECIFICATIONS
MATERIAL:ABS Handle + Stainless Steel
PRODUCT SIZE:5.9 Inches x 2.7 Inches (15CM x 7CM)
Note:
1. Please allow 1-2 centimeters difference due to manual measurement.
2. Different screen display colors differently, the color of the actual item may vary slightly from images.