"A MESMERIZING EXPERIENCE"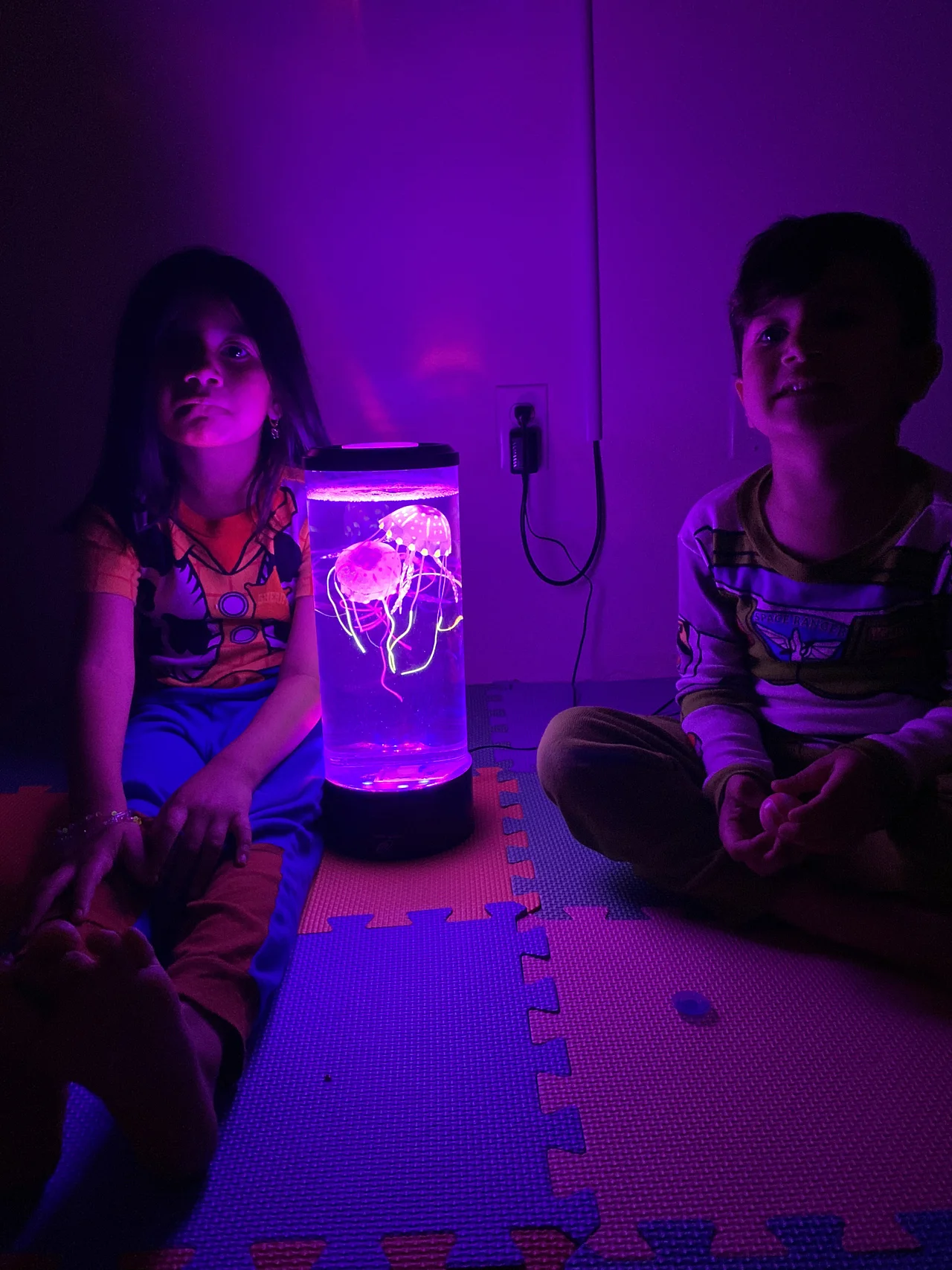 ★IMMERSE YOURSELF IN THE PEACE & CALM OF THE OCEAN: Watch jellyfish swim quietly . creating a beautiful ambiance. Lifelike jellyfish movements are so realistic you will question if they are real. The overall effect of changing lights is simply mesmerizing and fascinating.
★GREAT SENSORY STIMULATION PRODUCT: The quiet movement of realistic lifelike Jellyfish in the tank with fascinating color changing lights creates a beautiful Tranquil . peaceful & soothing deep-sea ambiance which can help reduce stress & anxiety. Great for children . adults & seniors with special needs . including dementia ADHD & autism. May helps improve mood & well-being.
★FASCINATING COLOR CHANGING EFFECT: Fascinating Color-changing effects. With a quiet motor. The Lamp comes with 2 pcs lifelike synthetic Jellyfish with 18 LED lights(6pcs Red+6pcs Blue+6pcs Green); 5 color light changing effects. Please do not add any external items in it as well as they can cause the unit to malfunction.
★IDEAL FOR HOME . OFFICE OR ANY INSTITUTION FOR PEOPLE WITH SPECIAL NEEDS: The Animated Jellyfish Lamp brings simulated marine life and colorful LED lighting to any room you place it in.
★GREAT GIFT IDEA: Makes an excellent gift for anyone who loves sea life or simply wants to make a unique design statement. Great for Christmas . Holiday's . Parties . Home Offices . Bedroom or Living Rooms.
★OPERATED BY ADAPTER OR BATTERIES: Operated by USB Adapter . the unit can be plugged into any 100v-240v charging port without issue. ONLY Medium model supports 3 AA batteries if you do not wish to plug it in an outlet.  Product Size: 12″ Tall x 4″ Wide (Medium) Or 14″ Tall x 5.5″ Wide (Large) . Black color base. Auto-off function after 4 hours ONLY On Large Model. Both Models change color but the Large model has button to pick specific colors while the medium model cycles color on auto.
PRODUCT VIDEO
*Note* – The water level can be adjusted to your liking. The customer ran out of distilled water. You can use Tap or Distilled water for the tank. The tank is sealed except for a small hole on top where you can fill in the water and put in the jellyfish. After putting in water . you can seal the top with the supplied cap.