About This Item:
TESTIMONIALS-Our Amazing Customers Talk About Us All Over The World!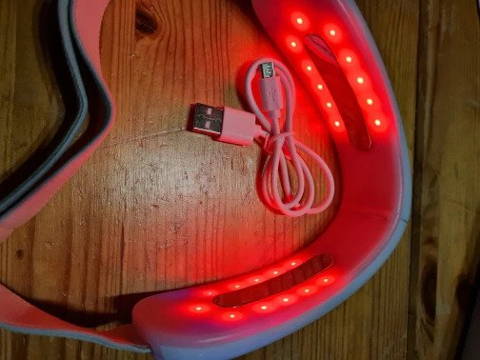 "This product is AWESOME! The chin strap is actually very comfortable and my jawline and turkey gobble (under chin area LOL) come out looking tight and toned. I also have very sensitive skin and this doesn't break me out or cause hives which is a win/win! The two light tones are great too. The red helps to tighten the skin, and the blue light helps to close your pores!"-ELLI S.(From US).
QUESTIONS? LOOK HERE!
1.Is it safe?
Yes, our product has been designed to be 100% safe and has earned a Certificate of EMC compliance
2.Can I use it if I have sensitive skin?
Yes you can! However, if you begin to experience any tingling no matter your skin type, we recommend taking a break from use for at least 2 hours.
3.Is it one size fits all?
Yes! The head strap is fully adjustable to accommodate any size or shape!
4.How long can I wear it?
The beauty of our design is that it will automatically turn off after 15 minutes, so you never have to worry about overuse! However, if you do decide to power the device back on to reuse after 15 minutes, we recommend no longer than 30 minutes a day.