BEST hummingbird feeder you will ever own. Unique horizontal design attracts more hummingbirds.
Attractive addition to your deck or patio or mounted at a window. Includes a perch and "hanging string loops".No "filler jar" to block your view. Bright red transparent poly-carbonate tube avoids the need to add dye to mixture. Also get visits from Hooded Orioles, Acorn Woodpeckers and Yellow-rumped Warblers. Hanging Loops included.

Very easy to clean – just shoot a garden hose through it. Super smooth and slick interior has no crevices that can harbor mold.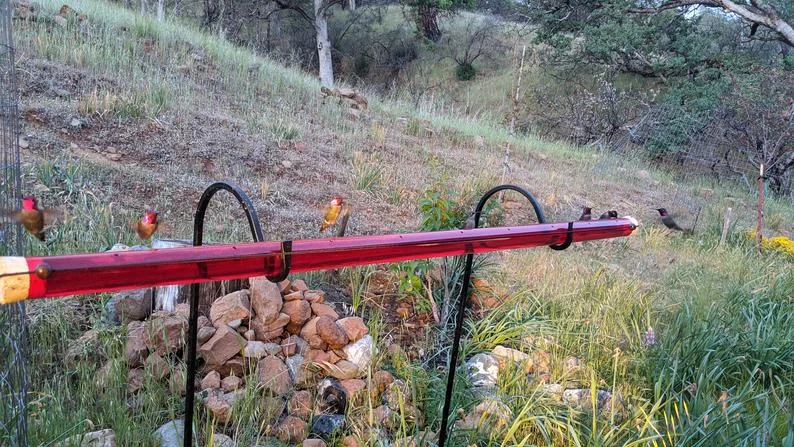 Can also be installed with shepherd's hooks (not included) see photos
Or mounted below a window with closet rod brackets (not included) see photo


16″ Feeder 15 Feeding Ports (24oz capacity) $29.95
24″ Feeder 30 Feeding Ports (48oz capacity) $39.95
32″ Feeder 45 Feeding Ports (72oz capacity) $49.95
48″ Feeder 50 Feeding Ports (96oz capacity) $62.95